Membership Fees
---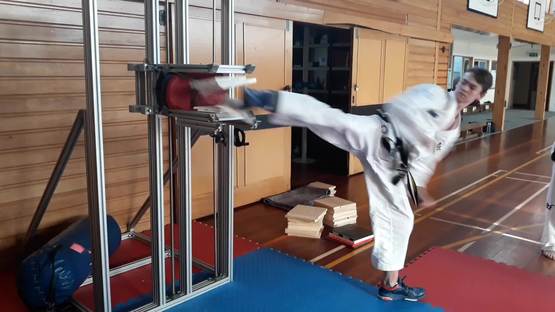 Mosgiel Taekwon-Do is a nonprofit club and we have set our membership fee deliberately low to encourage people to get into Taekwon-Do and train with us. Costs are kept similar to previous years if possible, and we have a financial incentive for those who set up automatic payment provisions for payment of fees.
All payments to the club should be made into the following account:
06-0901-0685158-00
To join
Print and fill out the International Taekwondo Joining Application Form. If you do not have a printer please let us know and we will supply a form for you to fill out. We have a supply of these at our do-jang.
Obtain a Do-bok (see Do-bok Training Uniform)
Set up a monthly automatic payment for our club
Pay an initial joining fee for the national body, and yearly renewal as required
Club fees
| | Base rate or month by month payment | Automatic payment on same day each month |
| --- | --- | --- |
| 1 person (adult or mini-kid) | $45 | $35 |
| Immediate family (up to four) | $60 | $50 |
| Family (four or more) | By arrangement | By arrangement |
Note: Fees are payable in full every month, even if you do not attend some weeks as the cost of running the club remains the same. We train during school holidays also, and membership payments are required for the December/January break period.
National body fees
All students are required to be paid members of ITFNZ (our national body). This fee is set by the national body and payments are due on the anniversary of your joining the national body. We will advise you prior to your registration being due. All members must have a current membership prior to any gradings or events.
Initial individual registration fee (first year) - $67
Annual individual national registration fee renewal (subsequent years) - $34/year
Annual family national registration fee renewal (subsequent years) - $67/year
The initial registration will result in you getting an introductory pack, including an ITF manual (suitable for your level, e.g. mini-kids vs. main class) and some stickers etc.
Gradings
From time to time we have gup (coloured belt) gradings. These are run by the national body and are conducted by a registered examiner. Gradings are an official event where students demonstrate their knowledge and a successful grading will result in an increase in rank. Each member wishing to grade must pay the grading fee (usually through their own club) and be registered and paid-up on the national register before the grading event.
Note: mini-kid gradings are managed inside our own club and there are no additional fees for these. The schedule for mini-kid gradings is set by the club and as a general rule we try to do them a week or two after a gup grading.
| Current gup of student grading | Grading Fee |
| --- | --- |
| 10th (white) to 8th gup (yellow) | $55 |
| 7th (green stripe) to 5th (blue stripe) gup | $65 |
| 4th (blue) to 2nd gup (red) | $75 |
If two members from the same family are grading then there is a discount of $25 (e.g. for two 10th gups grading the total cost is $85). There is a per-family ceiling of $110 per grading.
Grading fees can be paid by bank transfer / internet banking to the same account listed above.
---
Mosgiel Taekwon-Do
We are an ITF Taekwon-Do club in Mosgiel, New Zealand. We are led by Mr. Dion Bennett, 2nd dan and we train on Monday and Wednesday evenings and have extra activities throughout the year. Membership is open to anyone over the age of six and your membership allows you to train with any other ITF club world-wide.
Not sure if Taekwon-Do is right for you? You can come along to the club and observe or try for free for one month, no strings attached. Find out more.